https://europeanbuddhistunion.org/ebu-media-magazine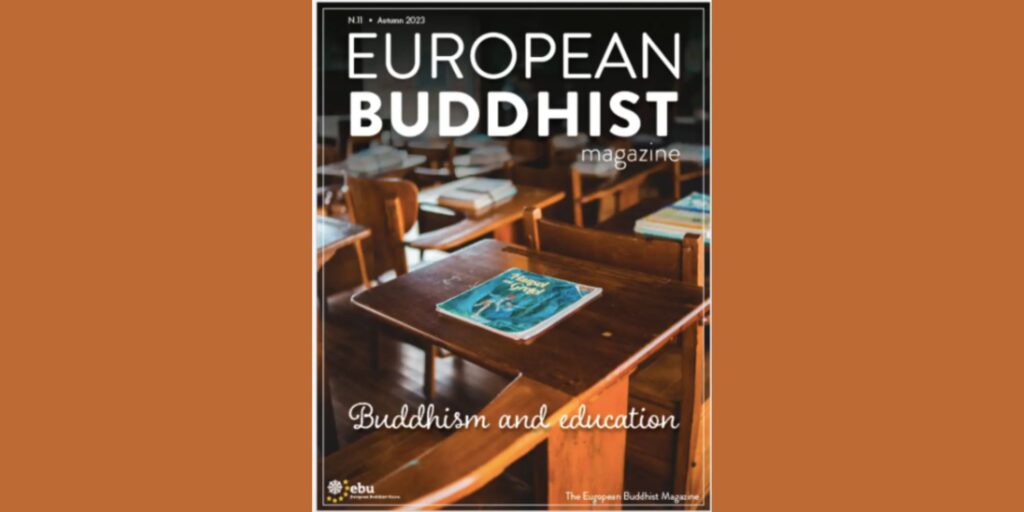 Studying the Sutras and gaining an understanding of what the Buddha taught is an infinite task. The Dharma cannot be exhausted, and the path we walk as practitioners has no end.

Learning means improving ourselves, and especially in our fast-moving times, keeping up with new developments and gaining new skills can be very beneficial for our jobs and our private lives. I am always looking to expand my knowledge and pick up things that I haven't studied before. Throughout our life, we have the opportunity to learn. Isn't that exciting?

Study and improvement are not only a matter for the youth, although some of our EBU activities focus on just this – teaching kids. In this issue of our magazine, we want to give you an idea of what we are currently doing in the field of education and self-improvement: David Rycroft (p.12) provides us with his rich experience about education in schools and how we could
refine it, so our children can not only learn about mathematics and chemistry but how to be satisfied and happy in life as well. David is also heading "Teach Peace" (p.28), one of our projects in cooperation with the Italian Buddhist Union (UBI), which aims at providing kids with meaningful tools of conflict resolution, so they may live a harmonious and joyful life in balance with the people around them. Guntram Ferstl shares with us his experience in mentoring the first Buddhist school in Austria, and what it entails.
Are young children enjoying meditation? Find out in his article (p.18). Sara Manzi (p.6) tells us about her experience with the educational system in the Netherlands, especially when it comes to teaching Buddhism in schools. In addition, being also a mother, she presents some of her favorite Buddhist books for children (p.36), these are excellent tips if you are looking for a good gift or have small children on your own.
Reverend Dario Doshin Girolami (p.32) is the team leader of the
EBU chaplaincy commission, and within the framework of the first EBU chaplaincy conference in Rome last June, they presented a University curriculum for Buddhists wishing to become chaplains. This is a very important step for the development of Buddhist chaplaincy in Europe and a goal we have been working on in the last few years.
Moritz Richartz (p.42) also focuses on coaching adults, by bringing mindfulness practices into the workplace from where it hopefully spills over to all other areas of life.
I do hope you will find our magazine as inspirational and entertaining as I, and if you feel you could contribute to one of our endeavors or projects, please let us know and come on board!

All my best in the Dharma,
Ron
(former) President of the EBU
Each quarter the EBU publishes a magazine with articles, interviews and other content – mostly from Buddhists in Europe. The goal is to have an overarching medium which connects the vast Buddhist landscape of the European continent. If you are interested in printed copies (for example to hand them out in your local sangha or just for your offline reading pleasure) follow the links below. The magazines are also downloadable for free: